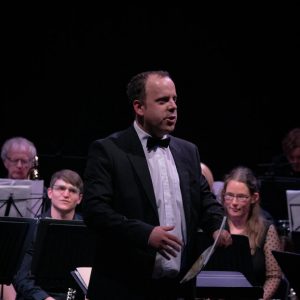 Hailing from Germany, Michael is gaining a reputation as a performer and conductor across Yorkshire and the North of England.
He has had success with many bands, including Regional brass band titles and a podium finish in the French Open Brass Band Championships. His current tenure as conductor of the Silver Spectrum Wind Band has been marked with continued success, most recently qualifying for the finals of the National Concert Band Festival in May 2022 as well as leading a major project with the band at York St. John University in the summer of 2022.
As a tuba player Michael has performed throughout the United Kingdom and Europe. He has appeared with such groups as the Rothwell Temperance Band, City of Hull Band, Harrogate Symphony Orchestra and Sinfonia of Leeds.
His commitment to enlarging the musical literature of the wind band world has seen him present larger scale works that you may not associate with wind band repertoire. Most recently, Michael led a performance of The Planets for Wind Band and performed this in the new Creative Arts Building Auditorium at York St. John University.
Michael gives important emphasis to the development of the brass band and wind band movement. Within the wind band, he believes in a 'more the merrier' approach when it comes to ensemble size and anybody can and should have the opportunity to perform in community based ensembles at any level.
Michael currently performs with the Yorkshire Imperial Band in Yorkshire, and has a daughter Rachael. Michael studied Performance and Conducting at the University of Huddersfield, and has since gained a masters degree in both Music and Psychology. Michael is looking to furthering his studies by completing a PhD in Music researching musical leadership ideas for differing ensembles.